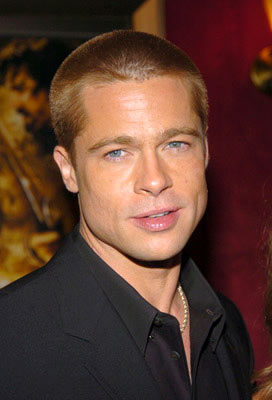 Name: William Bradley Pitt
Born: December 18th 1963, Shawnee, Oklahoma, USA. Raised in Springfield, Missouri.
Sign: Sagittarius
Family: Jennifer Anniston (wife), Jane (family counsellor), Bill (trucking company owner), Doug (brother) and Julie (sister).
Married: Jennifer Aniston - 29th July 2000
Height: - 6'0 / 183 cm
Weight: 159 lbs / 72 kg.
Hair: Blond
Eyes: Blue
Education:
Graduated from Kickapoo High School in Springfield, Missouri, USA in 1982. Studied journalism with a focus on advertising at the University Of Missouri, USA, but dropped out two credits short of graduation in 1986.
School activities:
School choir, football and tennis. Voted 'Best dressed' in his school in 1982
Nickname at school: Pittler
Smokes: Yes. His favourite brands are Camel Wides and Marlboro. Started smoking in 6th grade.
Drinks: Coffee and beer.
Hobbies: Interior design, architecture and nature. Collects functional metal art pieces and furniture.
Pets: He probably have pets now and have had several dogs before (Blanco, C.C. Rider, Purdy, Saudi and Todd Potter).
Car: White Toyota hybrid car.
Previous a black Mercedes G500 SUV and black Jeep Cherokee.
Favourite author: Cormac McCarthy
Favourite candy: Twizzlers
Favourite cereal: Frosted Flakes
Favourite drink: Mountain Dew
Favourite movies: Planet of the Apes and Saturday Night Fever
Favourite music: Jimi Hendrix, Gipsy Kings, Stone Temple Pilots and Bob Marley. The first album he bought was Elton John's 'Captain Fantastic'. He also likes Shirley Manson His first concert was the 'Dobbie brothers'
Favourite snacks: Pizza
Favourite sports: Bicycling, rock climbing and tennis.
Favourite TV-show: All in the Family
Hates: Sharks and spiders.