Descriptions from the book
"Ron buckled as something huge and orange came soarinpropelled itself, spiriting madly, at Scabbers" g from the top of the highest cage, landed on his head and then - HP & PoA, The Leaky Cauldron
" They (Harry & Ron) made their wake back up the crowded street to the Magical Menagerie. As they reached it, Hermione came out, but she wasn't carrying an owl. Her arms were clamped tightly around the enormeous ginger cat.
'You bought that monster?' said Ron, his mouth hanging open.
'He's gorgeous, isn't he?' said Hermione, glowing.
That was a matter of opinion, thought Harry. The cat's ginger fur was thick and fluffy, but it was definitely a bit bow-legged and its face looked grumpy and oddly squashed, as though it had run headlong into a brick wall..." - HP & PoA, The Leaky Cauldron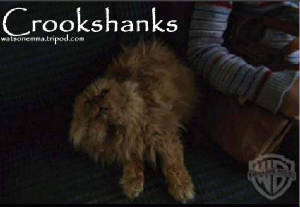 Hermione & her cat